What is Latisse?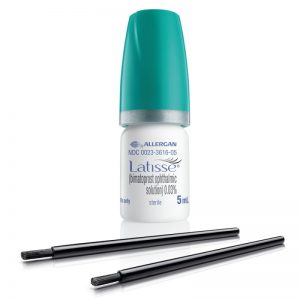 Latisse is an FDA-approved topical treatment used to stimulate the growth of eyelashes. Latisse is typically applied to the base of the upper eyelashes once per day. Most users begin to see results within four to eight weeks, with the most dramatic results appearing between weeks 12 and 16. Check out the easy-to-apply application guide.
DO's and DONT'S
Do not apply to the lower lid or in the eye and blot excess solution with a tissue.
Only use the sterile applicators supplied with LATISSE® to apply the product.
Don't allow the tip of the bottle or applicator to touch fingers or any other unintended surface, as contamination by common bacteria is known to cause infections.
Remove contact lenses prior to applying LATISSE®. Contact lenses may be reinserted 15 minutes afterwards.
Remember, if you stop using LATISSE®, lashes will gradually return to their previous appearance.
Results may vary from person to person, and any claims made on this website are not guaranteed.
Conditions Treated
_________
For people with inadequate or not enough lashes.