What is HydraFacial®

The HydraFacial is the only hydradermabrasion procedure that combines deep cleansing, exfoliation, extraction, hydration, and antioxidant protection simultaneously. This results in clearer, more beautiful skin with no discomfort or downtime. HydraFacial treatments will improve the appearance of fine lines, wrinkles, congested and enlarged pores, oily or acne prone skin, hyperpigmentation and brown spots. The HydraFacial machine is suitable for all skin types and colors. A series of 3-6 treatments roughly 3 weeks apart is recommended for best results.
HydraFacial® works great for:
Sun Damage, fine lines and uneven skin tone
Wrinkle
Acne, oily skin, clogged and enlarged pores
Redness
Blemishes
Dry, dehydrated skin
Skin clarity, resilience and firmness
Extracts blackheads and whiteheads
Reduces acne and superficial scars
Reduces fine lines and large pores
How does Hydrafacial work?
HF's 4-in-1 technology exfoliates, rejuvenates, improves acne and hydrates skin. It removes dead skin cells and extracts impurities while cleansing, hydrating and moisturizing.
Is there any downtime?
There is no recovery time with this procedure. You will be able to return to your normal activities following your appointment.
How does Hydrafacial compare to other treatments?
Unlike facials, Hydrafacial results are more significant and last much longer
Unlike microdermabrasion and peels, Hydrafacial hydrates, infuses products into skin and looks better immediately after.
Unlike most peels and lasers, Hydrafacial has no peeling or down time and is painless.
What about the results?
Results last 5-7 days when a single treatment is done, longer when a series is done. We recommend 1 treatment per month for maintenance, this way your skin will always look its best.
Conditions Treated
_________
Acne, oily skin, clogged and enlarged pores. Sun Damage, fine lines and uneven skin tone, Dry, dehydrated skin, Skin clarity, resilience and firmness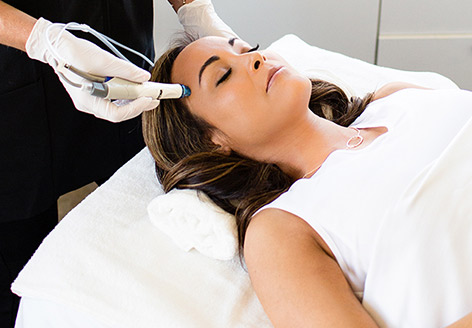 PROCEDURE TIMES
45 minutes to an hour
DURATION OF RESULTS
Results last 5-7 days when a single treatment is done, longer when a series is done.
RESULTS
Skin tightening, gradually improves fine lines and wrinkles
Results may vary from person to person, and any claims made on this website are not guaranteed.
I have had 4 (or 5
🤔
) HydraFacials now and finally decided to have them do my Botox. After months of trying to combat my breakouts with expensive over the counter products I scheduled my first appointment and by the time I received my 3rd facial I could visibly see as well as feel the results of my skin clearing up and glowing. I fully trust them and can tell they want nothing more than to give everyone beautiful skin and help you feel amazing! I HIGHLY recommend to everyone I speak with and I know you will not be disappointed if you at least schedule a consultation.
Caitlin Lloyd
Aubrey did a great job on my procedure and facial! She is very friendly and knowledgeable and made my experience great. I would highly recommend her.
Tamara Wallace
I have been to see Aubrey many tines for many things including hydafacials and most recently velashaoe. She is always very friendly and yet still very professional and puts you at ease straight away . The new spa is absolutely gorgeous and everyone there is friendly and helpful . I would recommend Aubrey to anyone who is interested in going there.
Lorraine Downes
I love my hydrafacials at Dermalase. Friendly and seasoned staff who are professionals. Hydrafacials are for clients who want anti- aging and true results and can do without an ordinary, time consuming, feel good facial. Dermalase is a great place and I give it a 5 star rating!
Tamy Knight Jacks
Did the hydrafacial My results where amazing my skin is glowing . I'm definitely going back for more services. Thank you. Ps: the staff super friendly.
Carolina Molinos
Aubrey was wonderful, explained everything about the hydra facial I was getting done and during the treatment explained the process as well. The atmosphere in this office is very professional and I enjoyed my visit. Would highly recommend this treatment to everyone.
Taryn Gavin